CONCEPT






Invited to create an art work to exhibit art about the PUNK movement.

Marcos in his reflection of what the PUNK movement in the soul could represent, far beyond the visual image, of moikanos and style marked by torn chains and clothes and anarchic musical chords and lyrics that reflected the post-war / Hippie generation.

When he faced again with the love story that transcends the life of the iconic Punk couple - Sid Vicious and Nancy Spungen. Of which, Sid kept his death pact with Nancy, after being accused of killing her at the Chelsea hotel in NYC, of which there is no real evidence about him. Sid took an overdosed on heroin and left a letter for his mother, about his pact love with Nancy and the way he would like to be buried.

Inspired by reading the letter Marcos came to the conclusion that they were the Romeo & Juliet of Punk and the attitude of following the Love beyond life, represents the PUNK movement singularly.
- This is PUNK, This is PUNK LOVE!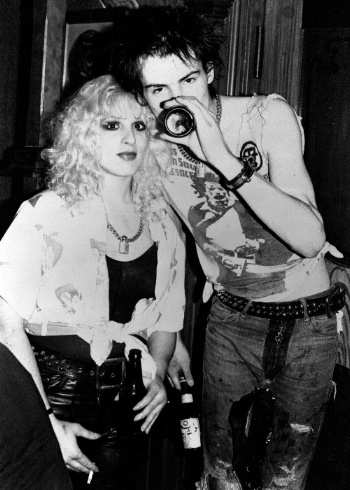 The art peace PUNK LOVE is a free interpretation of Marcos on the process of these two souls / energies of Sid & Nancy disincarnating, going through acts of the events of Death, Ego, Music, Romance, Pain, Hatred, Fear until they find themselves in the sea of souls and become light again.

During the work you will be able to see homage about the Dadaism that represents the same as Punk in the artistic movement and peculiarities of the personalities and the stories of the characters.

In aim to narrate this crossing of souls through the threshold, Cavallaria wanted to do something raw like Punk, without post production, CG or something fake.

Cavallaria dedicate one year with the help of specialized technicians and the RED Digital Cinema and endless days and nights locked at studio, to develop a new technique in motion that could portray souls in motion in space time.
Cavallaria developed a special technique that's he intitulated: Motion Light Painting® - it's real light effect without post production.
---


SYNOPSE









A free interpretation of the desincarnation up to the light of the love of the Romeu and Julieta of the Punk movement, the story of the cathartic encounter of Sid Vicious and Nancy Spungen's souls.

The work sees two of the most memorable punk figures transformed into a mesmerizing, black and white short which juxtaposes the fluidity of the light against static.

PUNK LOVE

EXTENDED COLOR

-02
---
---

ART –

MOTION LIGHT PAINTING

ABSTRACT EXPRESSIONISM IN LIGHT

-04
Cavallaria expanded, his technique, being able to create abstract expressions forms before only with tint now with light, remembering Picasso's phase with Light Painting but follow the inspiration of expression of the Master Jackson Pollock.

---

ART –

MOTION LIGHT PAINTING

SELF PORTRAIT

-05